The graphical user interface (GUI) is the visual information seen on the screen, with which the player interacts to impact the game.
IOS
PC & Mac
The screen is divided into four parts: the season bar, the menu, the main screen, and the Clan bar.
The Season Bar
It depicts which season you are currently in, shows your clan name and the in game year.

The triskelion between the year and the season allows you to skip to the next season.
The Menu
The menu is a half disk (in the middle of the season bar) with runes along the edge. Clicking on a rune will take you to the corresponding screen:

Farming Screen
Relations Screen

Trade Screen
War Screen

Clan Screen

Magic Screen

Map Screen

Background Screen

Saga Screen
A glowing rune means that you are already on the corresponding screen.
The Main Screen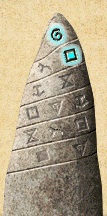 The main screen is the center part of the screen. This is where the main action happens: it changes according to which menu icon you are on to display the appropriate screen.
All the screens have a megalith, a stone at their center that display the blessings of the gods.
During events
During events, the season bar and menu disk will disappear to give more room to the main screen, but the clan bar will remain.
Tula view
At the end of each year, the tula view will take up all the screen and display your tula, and a recap of the year.
The Clan Bar
This is the bar at the bottom of the screen.

It shows your Clan Ring members, along with vital information concerning your clan, including:
Cattle: How many cows your clan possesses (your wealth)
Goods: The number of goods your clan possesses to trade, build, give, sacrifice...
Food: How much food you have until the next harvest
Population: How many people live in your clan
Weaponthanes: How many warriors protecting you
Magic: You magic supply until the next Sacred Time
You clan ring leader is the first portrait to the left, and is noted as such by the additional circle rune near his portrait. At the bottom of each of the portraits are runes symbolizing which deity they primarily worship.
Find out more about how to choose your clan members.